Construction Update 2016 September
Permits – Hotel:
Permit B14003774 – Clearing and Grading- Issued
Permit B14003822 – Rip Rap Stockpile – Issued
Permit B14006572 – Full Building Permit – Issued
Permit B15001070 – Bldg. Foundations and Cores – Issued
Permit F15001070 – Fire Alarm – Issued
Permit M15005585 – Mechanical – Issued
Permit P15005609 – Plumbing – Issued
Permit U12005809 – Site Utilities – Issued
Permit U14000947 – Intersection Improvements – Issued
Permit U14004341 – Erosion Control – Issued
Permit U14006572 – Balance of Sitework/Utilities – Issued
Permits – Office:
Permit B15005268 – Underground Work and Podium/Garage – Issued
Permit W16000521 – Hydrant Meter – Issued
Permit B16002140 – Johns Creek Bridge – Issued
Permit U16002823 – Johns Creek Bridge Utilities – Issued
Hotel Construction Progress:
The hotel tower is now surrounded by scaffolding which facilitates the installation of the exterior enclosure. Weather barrier and insulation are near completion at the guestroom levels. Above level 7, the cementitious panel siding has begun install. This will continue through December to complete the exterior finish of the building at the upper floors. Window install will be complete through level 12 by the end of September while the larger curtain wall system of windows continues to be installed at the podium levels and ballrooms. In addition, preparation to complete the roof hat with decorative, perforated panels will begin at the end of September with the anticipation of the tower crane coming down in mid-October.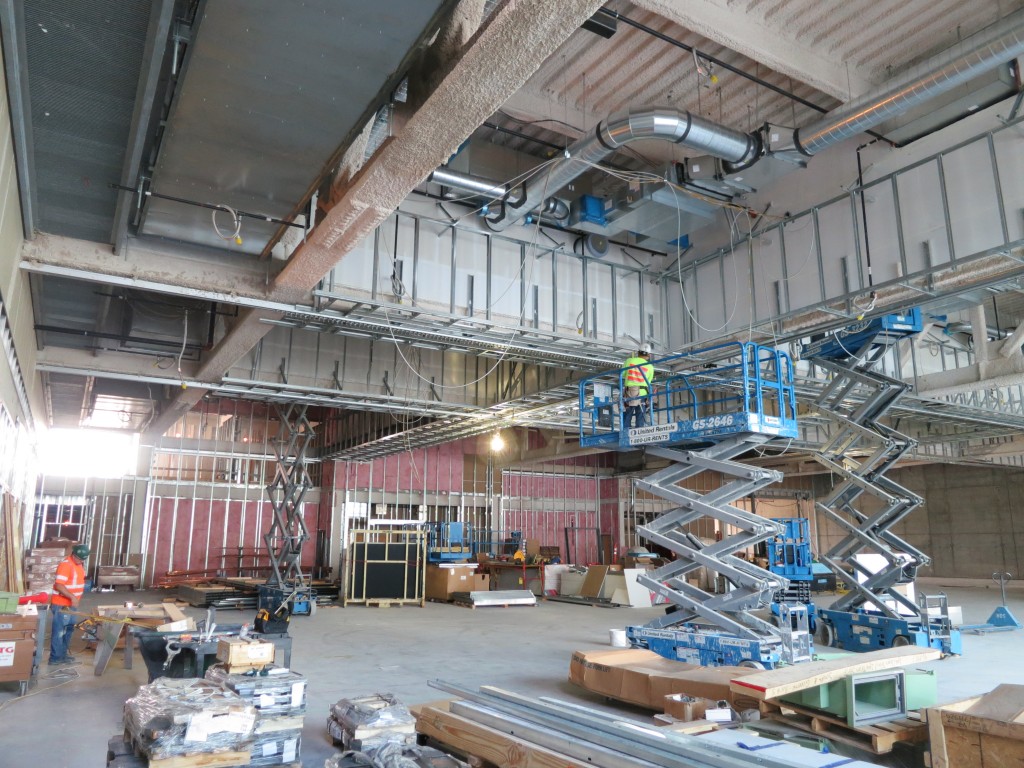 (Main Ballroom)
Interior to the building, both the elevators and laundry chute have started install this month. The guestroom floors are in various stages of completion. Levels 4 and 5 have all systems rough-in complete, drywall installed, and tiling has begun in the bathrooms. Levels 6, 8, and 9 are framed with drywall just beginning as electrical rough-in is completed. Levels 10, 11, and 12 have just begun layout of hollow metal door frames and wall studs. At the podium levels, the kitchen equipment and drywall is advancing quickly at Level 1 while levels 2 and 3 continue to wrap-up electrical, mechanical, and plumbing rough-in at the banquet spaces with wall cover to follow shortly.
(Hood at Display Kitchen Level 3)
Sitework at the north promenade will commence in late September. The exterior stair at the restaurant has been formed and will also pour later in September.
Office Construction Progress:
Improvements including all underground demo of existing structures and earthquake drains are now complete across the site. In addition, utility connections are complete at Bristol Ave. Pile driving for the grout driven piers is ongoing but anticipated to wrap up by mid-November. The third tower crane for overhead access to the Southeast corner of the site is scheduled to be erected mid-October.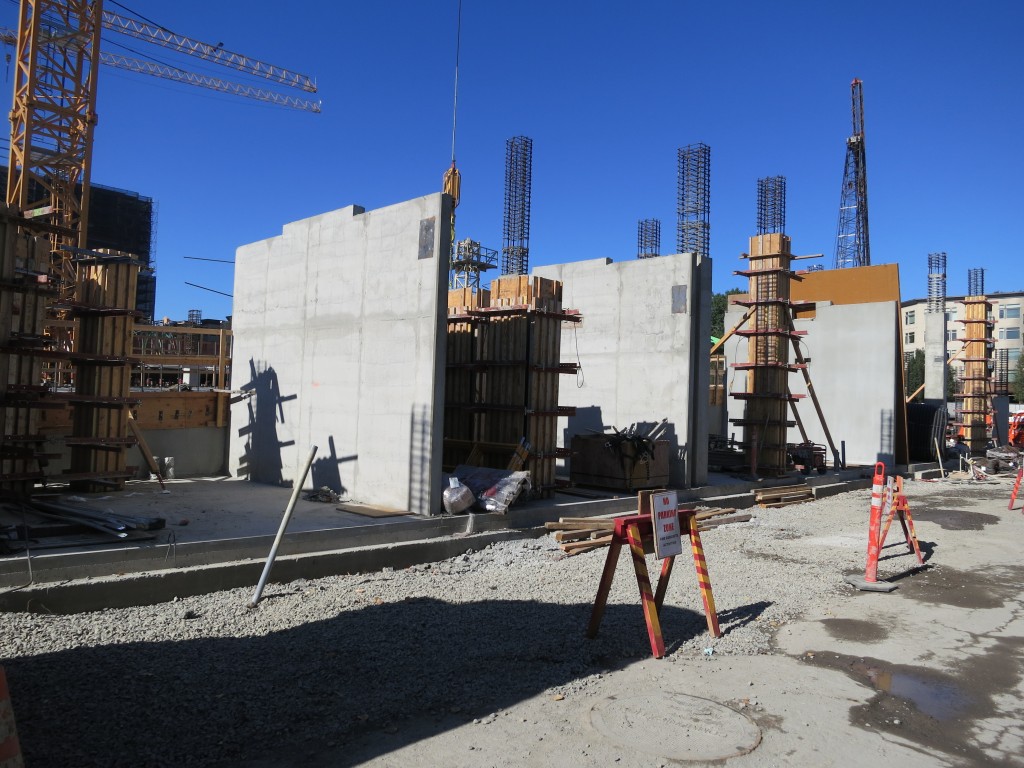 (Tower 2 Shear Walls)
All slab on grade concrete has been completed. The first section of elevated concrete deck for level P-1 was poured mid-September. This first deck will be complete by mid-October. Subsequent parking levels will be formed with mechanical, electrical, plumbing rough-in and PT cable layout to follow through the completion of Phase I in the early spring.
(Elevated Deck Layout)
Phase II of the Lake Washington Boulevard intersection improvements commenced in late August. The Johns Creek bridge install will allow access for four lanes of traffic entering and exiting the site. A 3-day weekend road closure successfully removed the existing culverts and replaced them with a precast bridge structure. Creek restoration and site work will be ongoing through the end of the project in late November.
(Overview looking Southport)