Construction Update 2017 July
Permits – Office:
Permit B15005268 – Underground Work and Podium/Garage – Issued
Permit W16000521 – Hydrant Meter – Issued
Permit B16000394 – Underground Work – Issued
Permit B16002140 – Johns Creek Bridge – Issued
Permit U16002823 – Johns Creek Bridge Utilities – Issued
Permit U15005273 – Plumbing – Issued
Permit W17000191 – Irrigation Meter – Issued
Permit E16005077 – Electrical – Issued
Permit F16004945 – Fire Alarm – Issued
Office Construction Progress:
Southport Office Construction Site
The phase 1 parking garage is complete and currently being used for valet services by the Hotel.  A temporary tunnel has been constructed from the Hotel at level 1 to the Office parking garage to facilitate the valet parking operations.
At the north end of the garage, phase 2, levels P0 through Office level 3 will be complete by the end of July.  This includes the double height space at the main Office lobby which will tie into the grade level porte cochere at the Hotel.  Following, level 3 completion, the level 4 decks will be formed and are scheduled to pour starting in late July.  Coupled with this work, two exterior manlifts are being erected to facilitate the movement of materials up and down the building.  These will be erected and complete by end of July as well.  The slab on grade and perimeter shotcrete walls for phase 3 are complete with backfill to begin by late July.  This will enable the roadway to be completed along the east perimeter of the site.
Office – Parking Garage South
The Johns Creek Bridge install is complete.  The widened roadway complete with enhanced landscape, large sidewalks, and pedestrian crossing at the site entry allows for increased visibility and access to the site from Lake Washington Boulevard.
Office – Johns Creek Bridge and Site Entry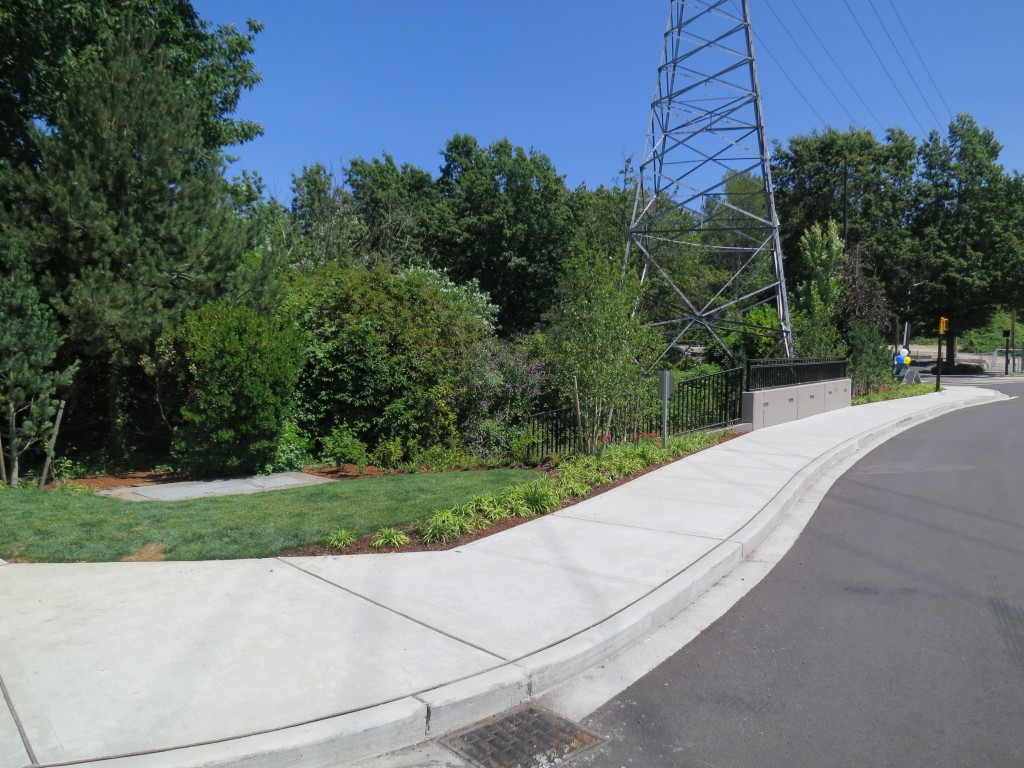 Office – Johns Creek Bridge