Construction Update April 2016
Hotel Permit
Permit B14003774 – Clearing and Grading- Issued
Permit B14003822 – Rip Rap Stockpile – Issued
Permit B14006572 – Full Building Permit – Issued
Permit B15001070 – Bldg. Foundations and Cores – Issued
Permit F15001070 – Fire Alarm – Issued
Permit M15005585 – Mechanical – Issued
Permit P15005609 – Plumbing – Issued
Permit U12005809 – Site Utilities – Issued
Permit U14000947 – Intersection Improvements – Issued
Permit U14004341 – Erosion Control – Issued
Permit U14006572 – Balance of Sitework/Utilities – Issued
Permits – Office:
Permit B15005268 – Underground Work and Podium/Garage – Issued
Permit W16000521 – Hydrant Meter – Issued
Hotel Construction Progress:
Level 2 through Level 11 of the elevated concrete decks have been completed to date with the roof still on schedule for the middle of May. The concrete has been poured on the metal decks over the steel structures at the ballrooms and fireproofing is next up at the end of the month. Work along the waterfront is ongoing as new utilities are being installed beneath the promenade to provide water, power, and sewer to the docks with decorative pavers to follow. Additionally, site concrete is also being poured at the loading dock with the completion of underground utilities and power in this area. Support for decorative screening at the service areas has also been installed.
Exterior building enclosure is progressing from the north elevation to the east elevation, clockwise around the building. To date, this includes work at Levels 1 through 3 with exterior framing, weather barrier, and sheathing. Building scaffolding has also been erected to facilitate the precast cornice and brick installation as part of the exterior enclosure. Interior to the building, wall framing has begun on Levels 2 through 4 as well as finishing of the electrical rooms on each floor.
Mechanical, electrical, plumbing, and fire sprinkler rough-in is ongoing and substantially complete at Levels 2 and 3 where interior framing has begun. Carriers and piping for the common bathrooms on Levels 2 and 3 have been installed. At the guestroom levels, the mechanical VRF units for the heating and cooling systems continue to be installed along with the ducts and piping associated with these systems.
Building enclosure and scaffold at NE corner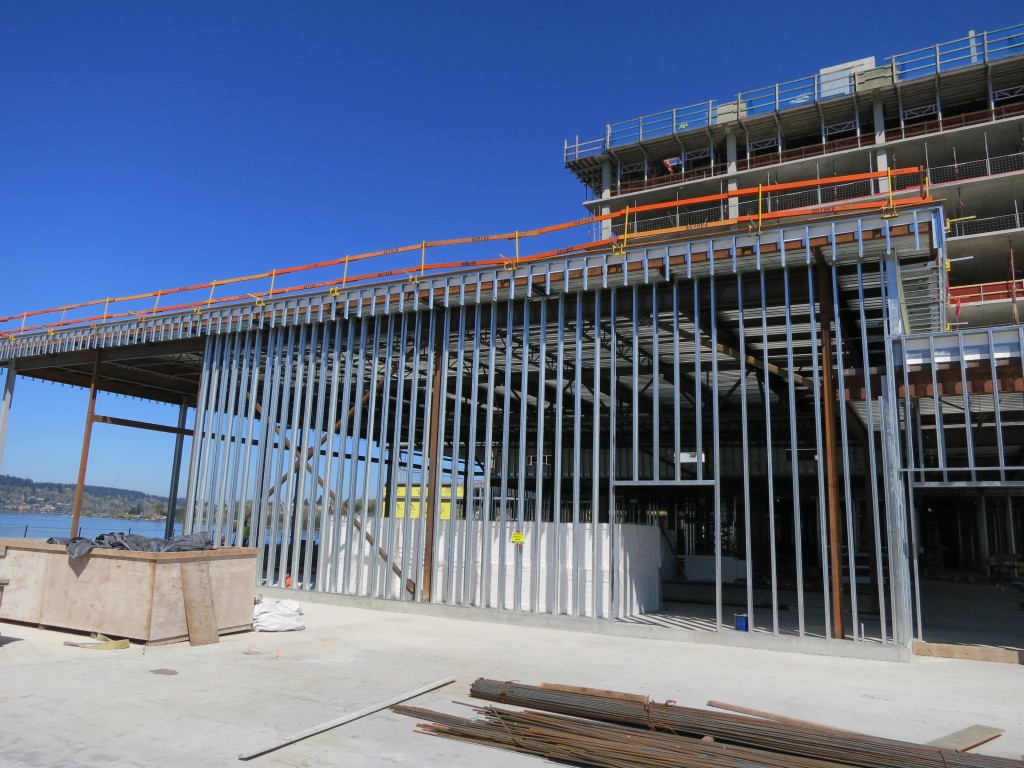 Exerior framing at Jr Ballroom
Interior courtyard at level 3
Level 2 MEP rough-in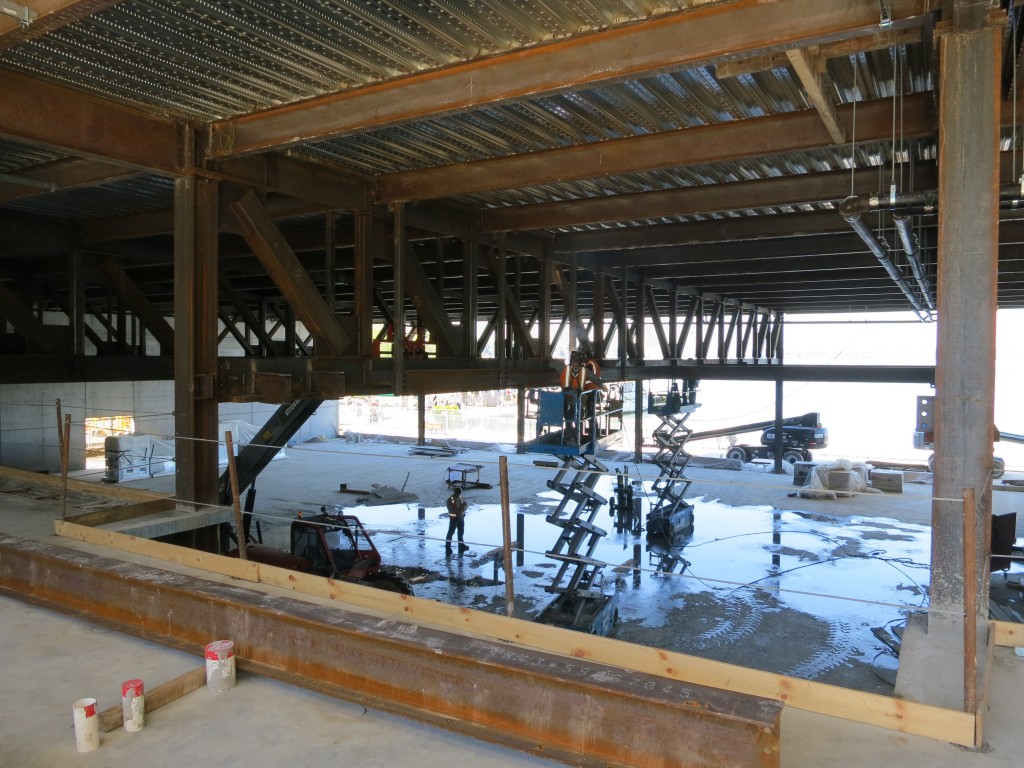 Main ballroom metal decks and MEP install
Office Construction Progress:
Underground improvements and earthwork continue at the Office site. Demolition and jack hammering of the existing foundations from the old Shuffleton power plant is ongoing. Around the perimeter, sheet piling continues to be installed along with the earthquake liquefaction drains. Sheet piling is on schedule to be complete by mid-April. The dewatering wells have been installed to maintain dry site conditions for the installation of the grout piles which began late last month and will be ongoing through the summer. Temporary power has also been set up for the site while connections for the underground utilities are scheduled to begin at the end of the month.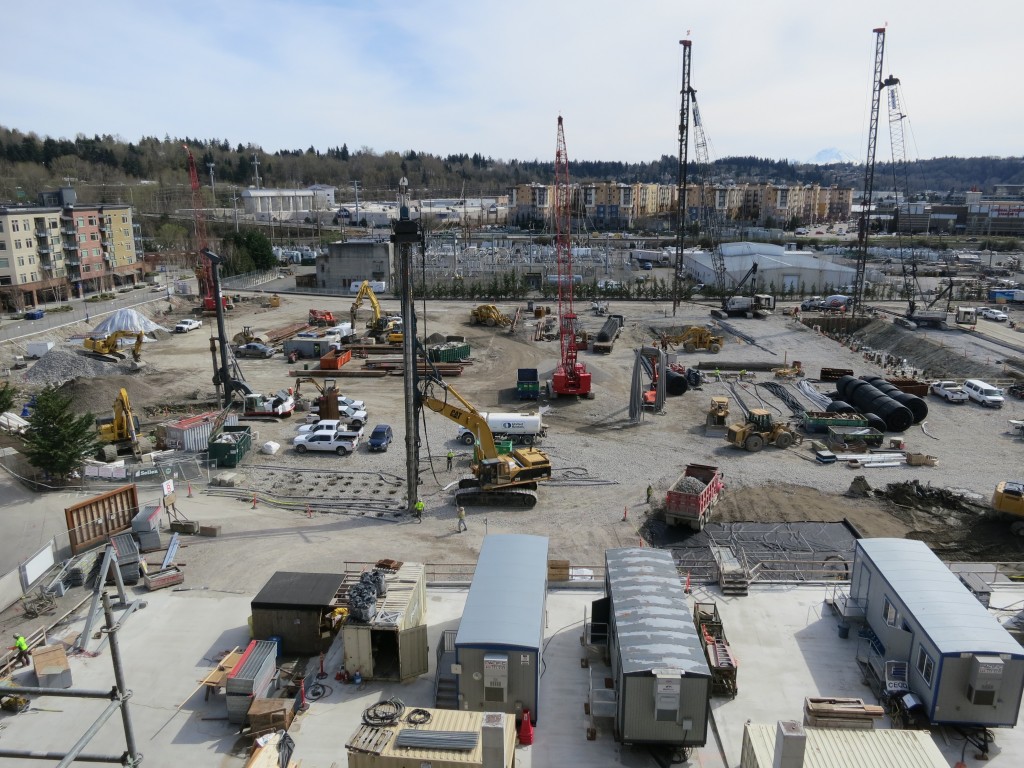 Overview of site

sheet piling install