Construction Update January 2016
SECO Development
Hotel at Southport
Construction Update 01/15/16

Permits:
Permit B14003774 – Clearing and Grading- Issued
Permit B14003822 – Rip Rap Stockpile – Issued
Permit B14006572 – Full Building Permit – Issued
Permit B15001070 – Bldg. Foundations and Cores – Issued
Permit F15001070 – Fire Alarm – Issued
Permit M15005585 – Mechanical – Issued
Permit P15005609 – Plumbing – Issued
Permit U12005809 – Site Utilities – Issued
Permit U14000947 – Intersection Improvements – Issued
Permit U14004341 – Erosion Control – Issued
Permit U14006572 – Balance of Sitework/Utilities – Issued.
Design Update:
Interior design has progressed with Gensler Architects and is scheduled to be complete in March. Gensler Architects is the interior designer for the Restaurant and Regency Lounge. Coordination between the design and construction teams continues to eliminate constructability issues.
Construction Progress:
Level 2 through Level 6 of the elevated concrete decks have been completed to date with subsequent floors projected to complete every two weeks. Topping out of the concrete decks is on schedule to be complete in May of 2016.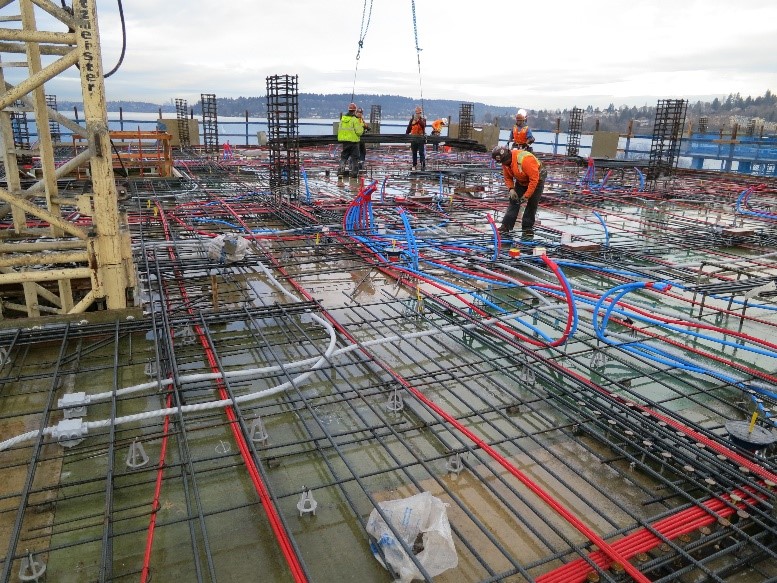 Mechanical, electrical, and plumbing coordination and rough-in is ongoing as the concrete decks continue to be poured moving up the Hotel. Carriers and piping have been installed at Level 1 for the common area bathrooms as well as electrical conduit and general routing of pipes for plumbing and fire protection.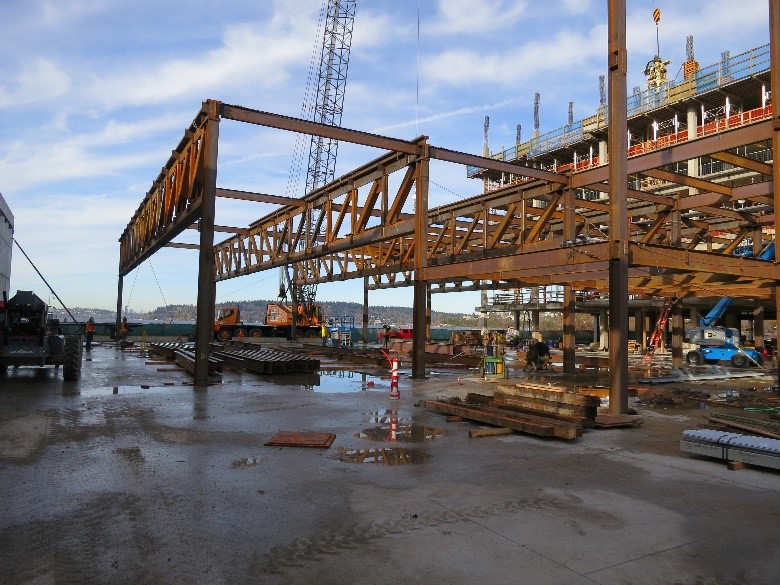 The large steel trusses for the Main Ballroom were delivered to the site in early January and erected in one day! Additional steel for the supporting structure and Junior Ballroom are on schedule to complete at the end of February.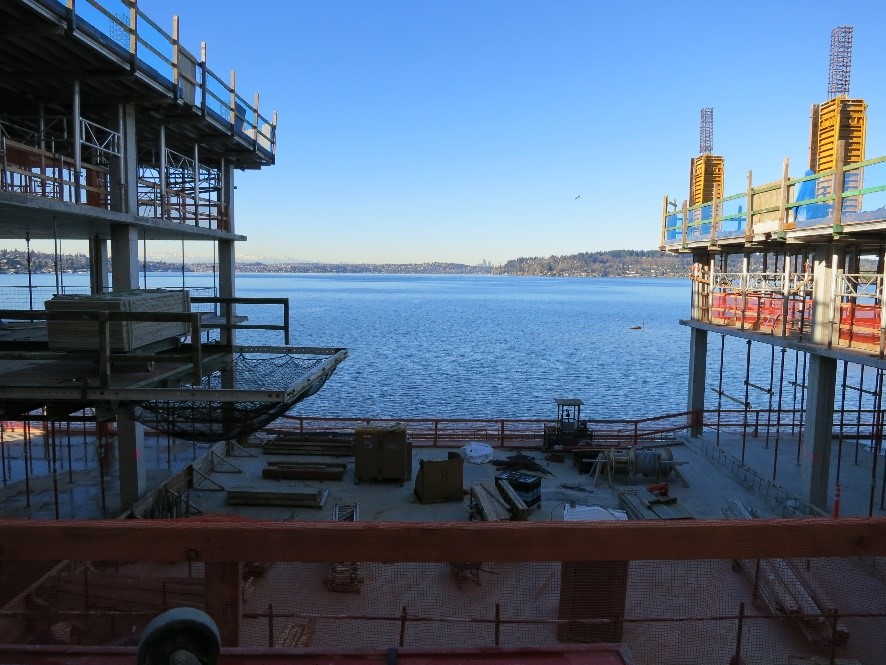 The exterior man-lift elevator system is currently being constructed to allow for increased access to each floor which cuts down on the use of temporary stairs and ladders.
Exterior finishes are on schedule to begin in early February beginning with the exterior framing support followed by the decorative precast concrete, brick and metal trim.
Site logistics is ongoing between the general contractors Sellen and Exxel Pacific as the Office at Southport has begun construction south of the Hotel. Fifty-foot deep test piling are being installed in late January for the building's foundation support with the installation of the earth liquefaction drains to follow after testing is complete.
The official Groundbreaking Ceremony for the Office at Southport is scheduled for Thursday, January 21st.