Construction Update 2018 April
Permits – Office:
Permit B15005268 – Underground Work and Podium/Garage – Issued
Permit W16000521 – Hydrant Meter – Issued
Permit B16000394 – Underground Work – Issued
Permit B16002140 – Johns Creek Bridge – Issued
Permit U16002823 – Johns Creek Bridge Utilities – Issued
Permit U15005273 – Plumbing – Issued
Permit W17000191 – Irrigation Meter – Issued
Permit E16005077 – Electrical – Issued
Permit F16004945 – Fire Alarm – Issued
Office Construction Progress:
Southport Office Construction Site April 30th 2018
Tower 2 has been topped out!  The roof deck concrete is complete and the tower elevator penthouse and framing have begun.  The first elevated concrete deck at Tower 3 was poured at the beginning of April and will continue floor by floor approximately every 3 weeks till topping out at the end of 2018.  At this point, there is more than 120 workers on site daily!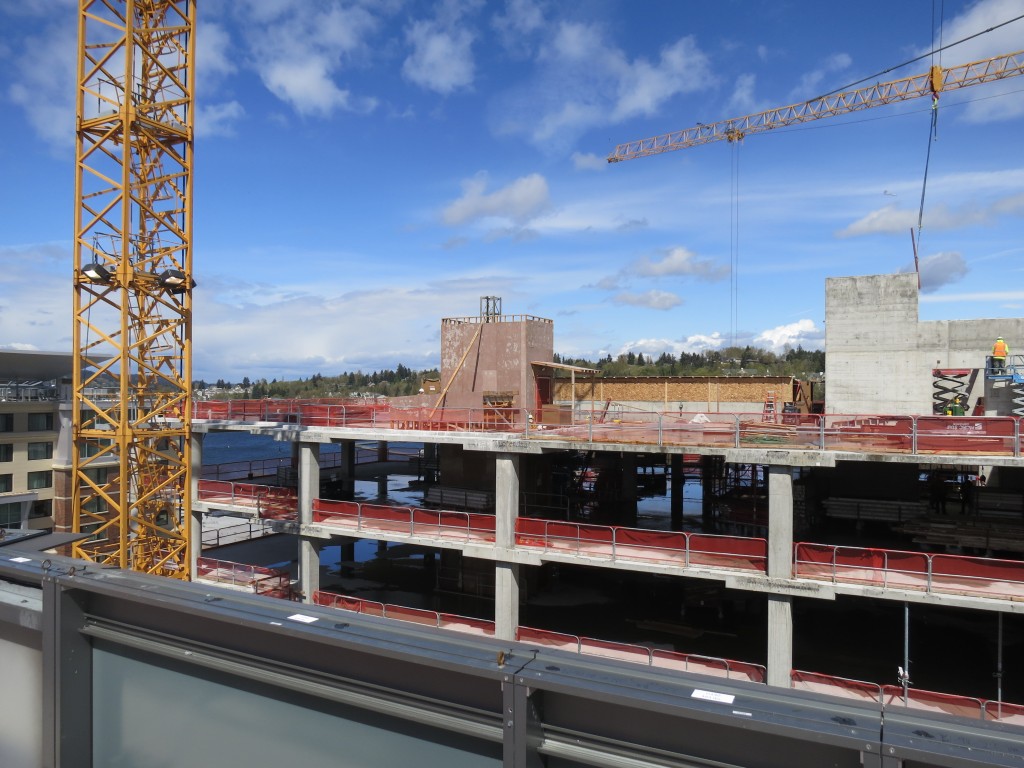 Tower 2 – Roof Deck
Tower 3 – Construction Site
Framing and layout for interior rooms at Tower 1 is substantially complete and ceiling framing has begun at the lobby levels.  Electrical and mechanical rough-in continues up the towers and is complete through level 9 for Tower 1 and through level 4 for Tower 2.  Now that curtain wall is complete at Tower 1 and the building is drying out, interior wall board will commence along with lobby finishes.
Tower 1 – Level 1 Ceiling Grid Install
Elevator install for the parking levels is complete in anticipation of the parking garage for levels A-F to be turned over in June for self-park.  The elevator parking vestibules are currently being finished out with drywall, paint, and lighting for this turnover.  Hotel self-park for the first 200 stalls is open.  Work for the Tower 1 elevators is ongoing.
Hyatt Regency Lake Washington Self-park Sign
Tower 1 curtain wall is complete!  The storefront windows will be done in both Tower 1 and Tower 2 by early May.  Tower 2 curtain wall has begun and is complete at the lower podium levels so that the stone install may commence at these lower levels.  Scaffolding has been erected and is currently being used for stone install that surrounds the lower levels.  Stone install will continue on Tower 1 till late April and then will jump over to Tower 2 once the curtain wall is installed here.  The large glass wall at the face of the Living Room between the two towers will begin install in early May.  This will complete the exterior façade between the two Towers at the north side of the lobby.
Tower 1 – Curtain Wall Complete
Tower 1 and Tower 2
Tower 2 – Curtain Wall and Retail Storefront