Construction Update July 2016
Permits – Hotel:
Permit B14003774 – Clearing and Grading- Issued
Permit B14003822 – Rip Rap Stockpile – Issued
Permit B14006572 – Full Building Permit – Issued
Permit B15001070 – Bldg. Foundations and Cores – Issued
Permit F15001070 – Fire Alarm – Issued
Permit M15005585 – Mechanical – Issued
Permit P15005609 – Plumbing – Issued
Permit U12005809 – Site Utilities – Issued
Permit U14000947 – Intersection Improvements – Issued
Permit U14004341 – Erosion Control – Issued
Permit U14006572 – Balance of Sitework/Utilities – Issued
Permits – Office:
Permit B15005268 – Underground Work and Podium/Garage – Issued
Permit W16000521 – Hydrant Meter – Issued
Hotel Construction Progress:
The exterior skin of the building continues to be installed working its way from bottom to top.  Brick cladding is near completion at the podium levels in addition to window frame install at the ballrooms and meeting spaces.  Exterior steel, framing, and sheeting will continue up the building reaching Level 12 in late August.  Scaffolding to facilitate exterior construction will also be complete in the coming month up to Level 8.  Guestroom window install is complete to Level 6.  Promenade construction is on hold until the early fall.
At the interior of the building, the steel stairs have been installed and are open for use.  The grand stair curb wall is framed as well.  At the roof, the structure for the mechanical screen is complete with a perforated, vertical mesh and LED lighting to follow.  In addition, waterproofing is currently being put down now that all concrete curb work is complete at the roof.  Mechanical, electrical, plumbing, and fire sprinkler rough-in is complete at the public amenity levels while sound walls are being installed at the ballrooms above the operable partition tracks.  Wall board cover for Levels 4 thru 6 will continue through August as these floors complete all necessary systems infrastructure and the ceilings have been skim coated.  Elevator machines have been delivered and elevator install will commence during the month of August.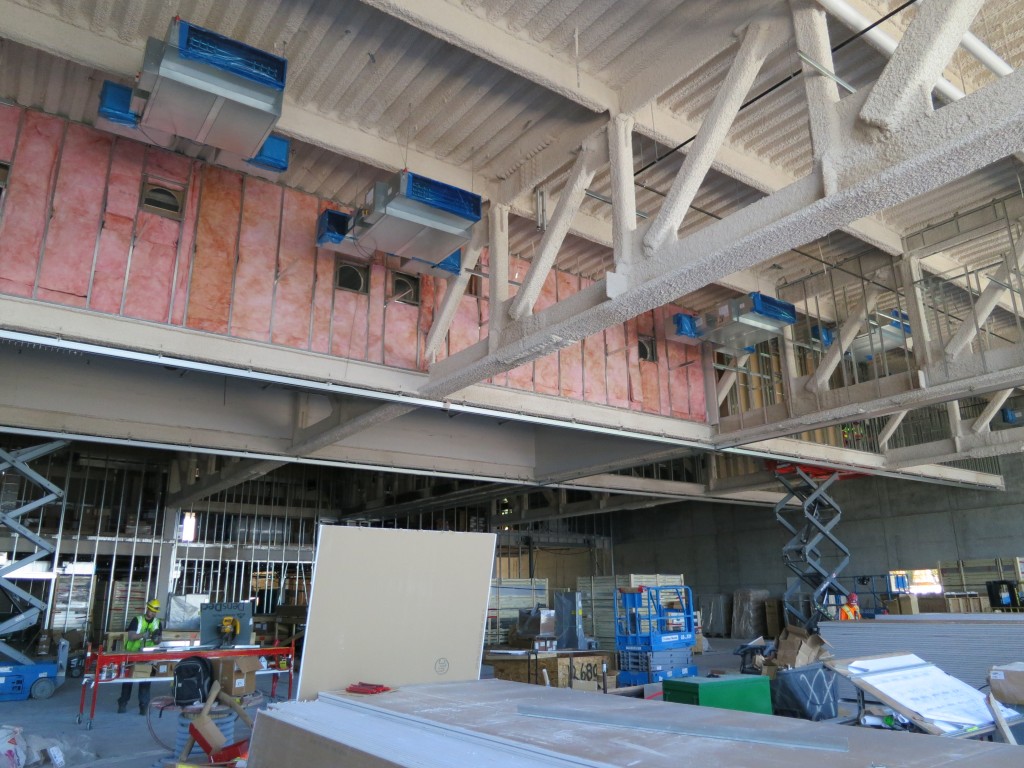 Ballroom Sound Wall Construction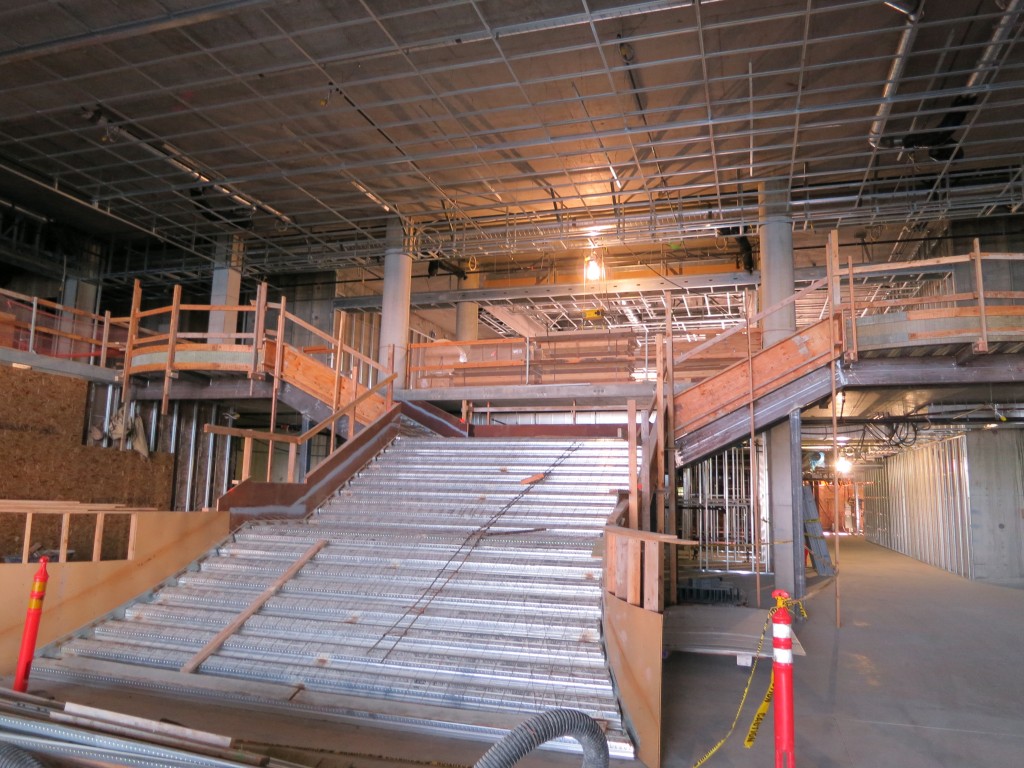 Grand Stair Framing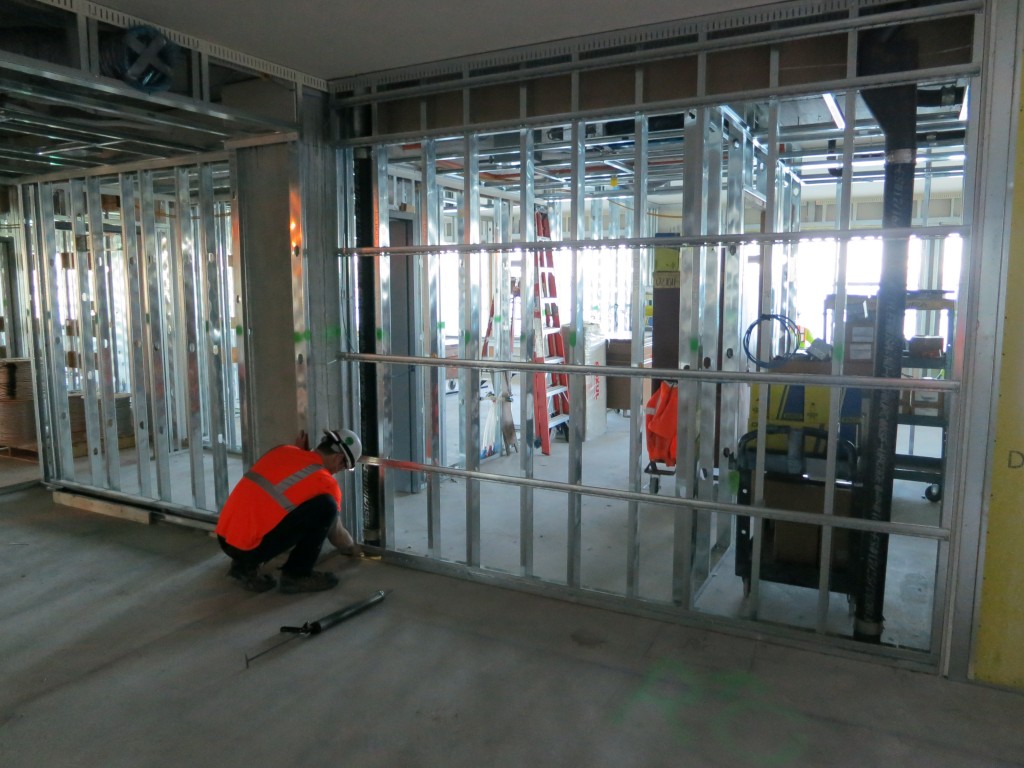 Guestroom Framing
Guestroom System Rough-In
JR Ballroom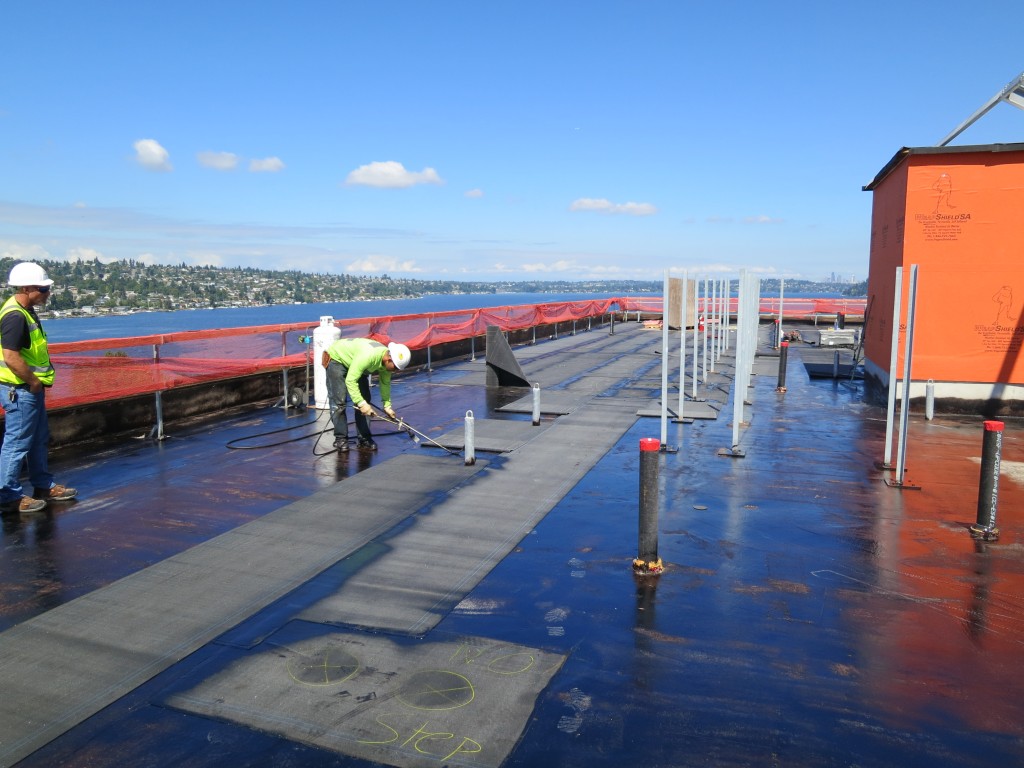 Roof Waterproofing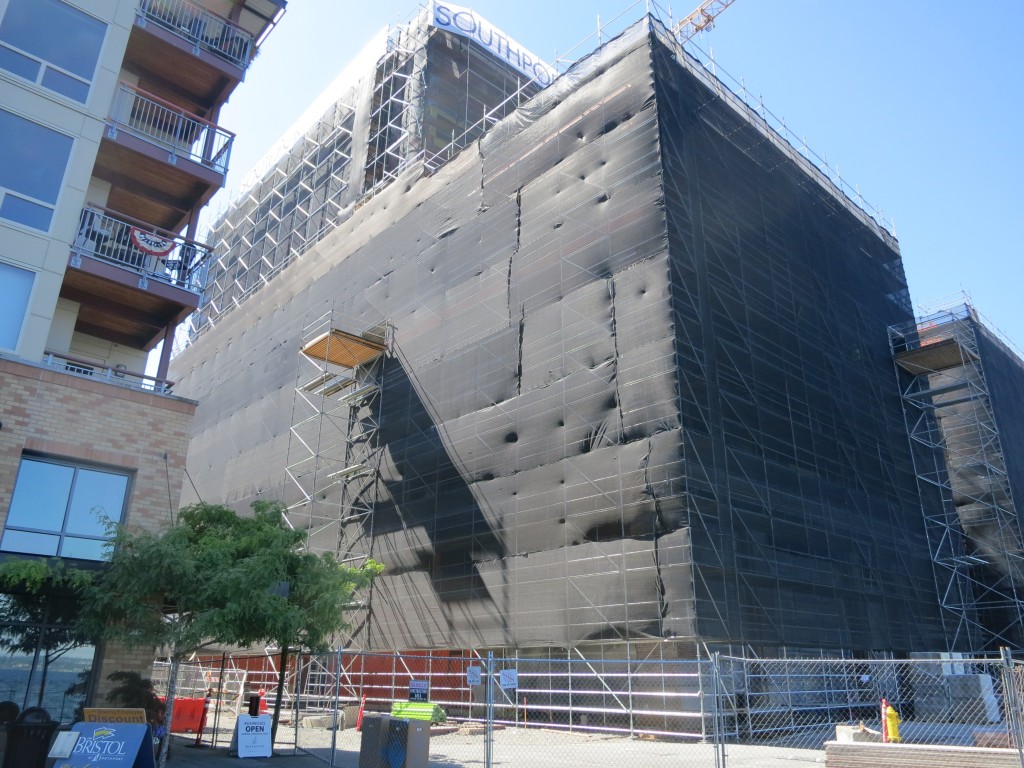 Scaffolding
South Exterior
Office Construction Progress:
Underground improvements continue for the project.  The Shuffleton Power Plant demolition and pulling of the existing piles is near completion.  Buried electrical conduit is being placed at the southwest corner of the site while the utility stubs at the main roadway will be complete by the end of July.   Grout driven piles continue across the site and are now being installed up to the south wall of the hotel.
The slab on grade concrete for Tower 1 is complete, next the shear walls are being formed.  At Tower 2, the footing are complete with the slab to be poured late July.  Once the Shuffleton demo is complete, footings may commence.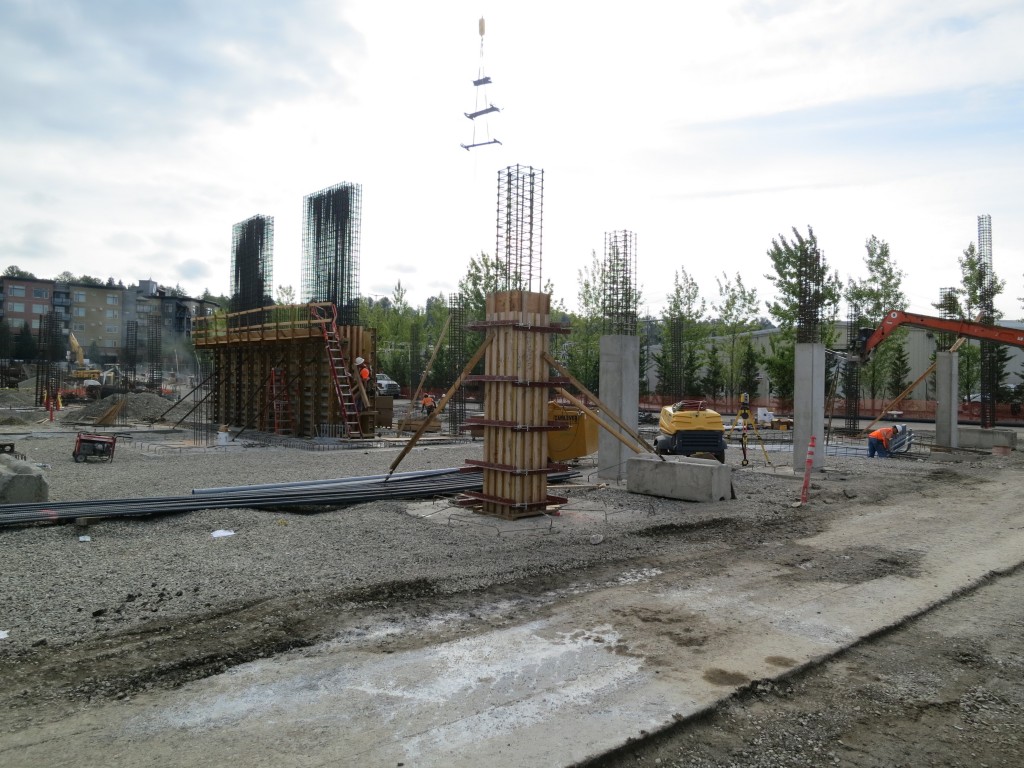 Tower 1 Shear Walls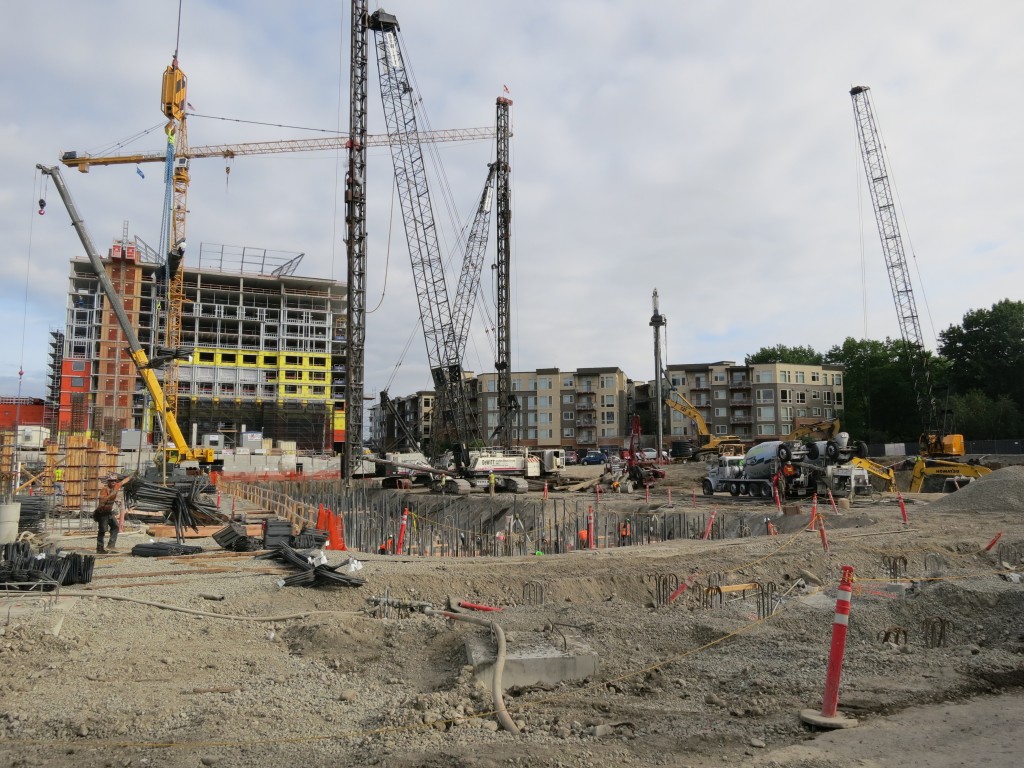 Tower 2 Footing