Construction Update June 2016
Permits – Hotel:
Permit B14003774 – Clearing and Grading- Issued
Permit B14003822 – Rip Rap Stockpile – Issued
Permit B14006572 – Full Building Permit – Issued
Permit B15001070 – Bldg. Foundations and Cores – Issued
Permit F15001070 – Fire Alarm – Issued
Permit M15005585 – Mechanical – Issued
Permit P15005609 – Plumbing – Issued
Permit U12005809 – Site Utilities – Issued
Permit U14000947 – Intersection Improvements – Issued
Permit U14004341 – Erosion Control – Issued
Permit U14006572 – Balance of Sitework/Utilities – Issued
Permits – Office:
Permit B15005268 – Underground Work and Podium/Garage – Issued
Permit W16000521 – Hydrant Meter – Issued
Hotel Construction Progress:
Now that the roof deck has been poured, the large steel canopy is being erected which will allow for mechanical screening as well as decorative lighting at the rooftop.  In addition, the exterior man-lift elevator now goes all the way to roof.  In order to facilitate the exterior construction, scaffolding is being completed around the building.  The exterior construction consists of exterior framing, sheathing, weather barrier, brick, and precast which continues from North to East around the building.  Guestroom windows have also begun to go in starting at Level 4 and working their way up the building.  Lower, podium levels have window frames installed with the glass to follow in the coming months.  Promenade construction is complete for now so that adjacent residents can access the dock and waterfront.  Finish pavers will be forthcoming in the early fall.
Mechanical, electrical, plumbing, and fire sprinkler rough-in is near completion at the public amenity levels.  Preparation is being made for the main air-handling units to be installed at the Level 2 mechanical space, south of the ballroom.  In addition, mechanical and plumbing systems are being finished at the ballrooms now that fireproofing of the steel support structure is complete.  The interior steel stairs are nearing completion while above level 5 the installation of the mechanical VRF units, electrical and plumbing rough-in continues in anticipation of wall framing to follow.  Interior wall framing is ongoing at levels 1, 2, and 3 while the first guestroom level 4 is almost completely framed with all utility rough-in complete as well.  Wall board covering for Level 4 is planned for the end of the month.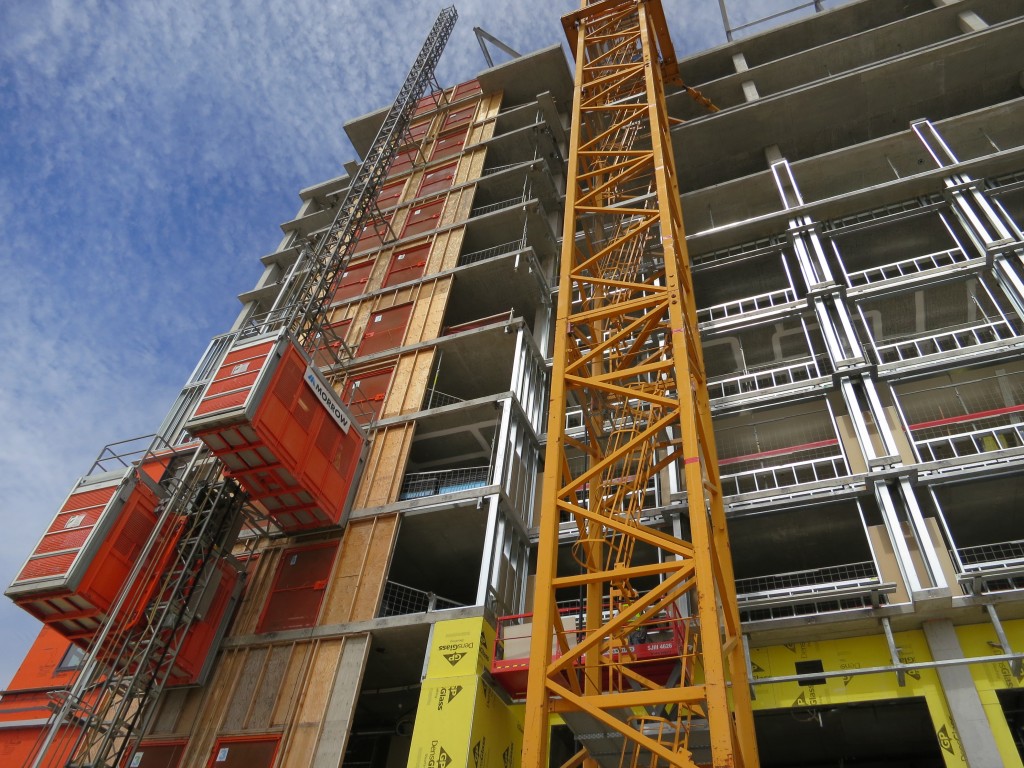 Exterior framing and man-lift complete to the roof
Grand stair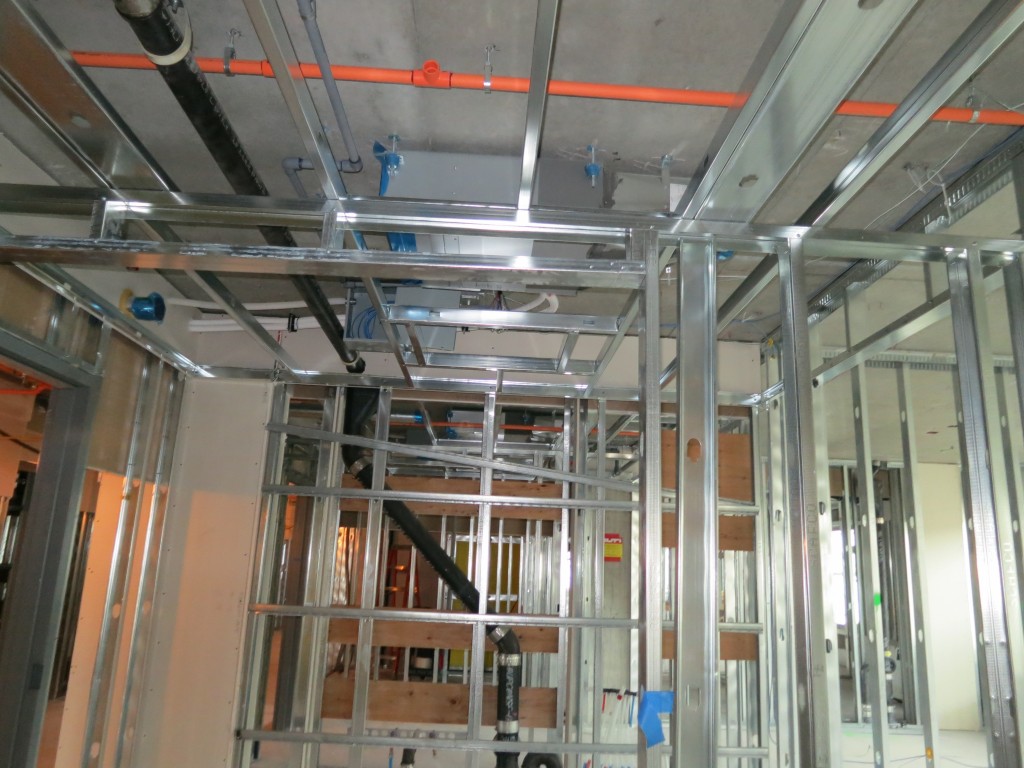 Interior framing level 4
loading dock
Main ballroom with JR on top
Planter walls and view terrace level 8
South elevation overview
Steel for roof screen
Office Construction Progress:
Underground improvements are in full swing as the nicer weather approaches.  At the Shuffleton Power Plant, demolition of the existing concrete slab continues in addition to pulling the buried cedar piling that supported the building.  Electrical underground installation and connection of the wet utilities across the Bristol Avenue also began this month.  Earthquake drains are on hold as they are now more than 80% complete while the grout driven piles continue across the site.  The slab on grade concrete for Tower 1 is complete while the Tower 2 slab is approximately twenty percent complete scheduled to be complete next month.
Site Overview
Site Overviewww