[I-924/I-526 Approved EB-5 Project] Seattle Southport Office December 2018 Construction Update
Permits – Office:
Permit B15005268 – Underground Work and Podium/Garage – Issued
Permit W16000521 – Hydrant Meter – Issued
Permit B16000394 – Underground Work – Issued
Permit B16002140 – Johns Creek Bridge – Issued
Permit U16002823 – Johns Creek Bridge Utilities – Issued
Permit U15005273 – Plumbing – Issued
Permit W17000191 – Irrigation Meter – Issued
Permit E16005077 – Electrical – Issued
Permit F16004945 – Fire Alarm – Issued
Southport Office Construction Site  12/31/2018
Tower 1 construction continues this month with the focus on the finishes at the lower level public floors including the lobby and restrooms. Tower restrooms as well as core and shell office space are complete at levels 5 through 9 as punch list is ongoing. The podium restrooms at the lower levels 1 through 3 are still in the process of completing floor and wall tile along with fixture install. At the main lobby, the powder coated railings are in as well as the wood slat ceiling. Floor tile has begun in the lobby as well as continued work on the wood wall panels.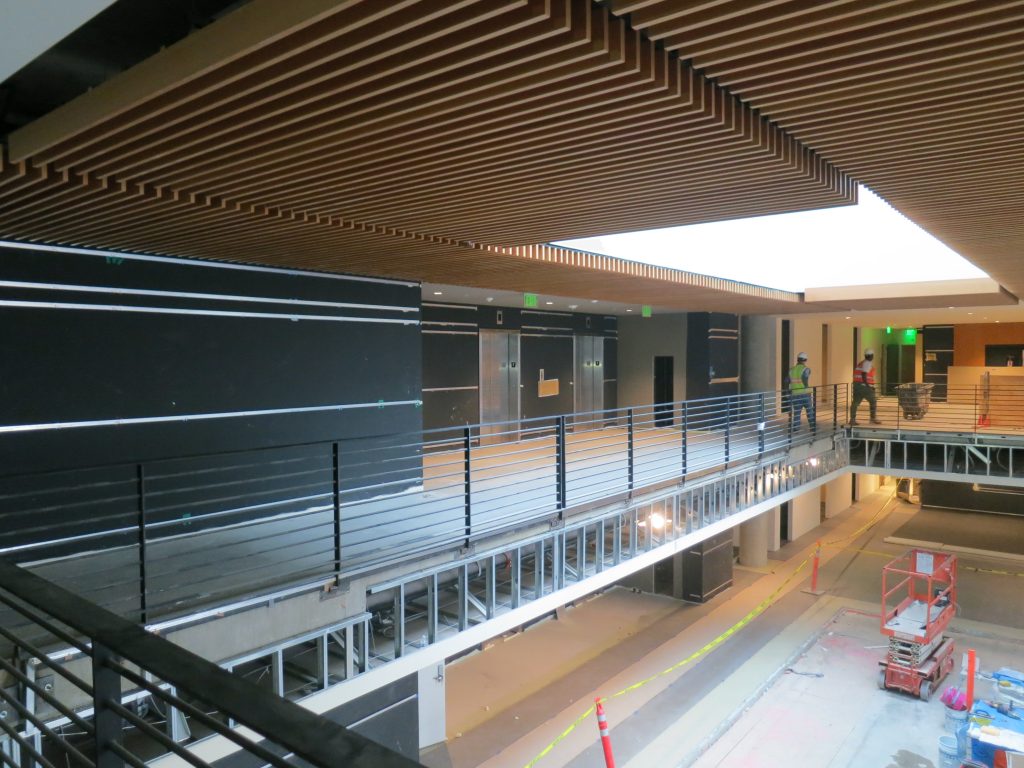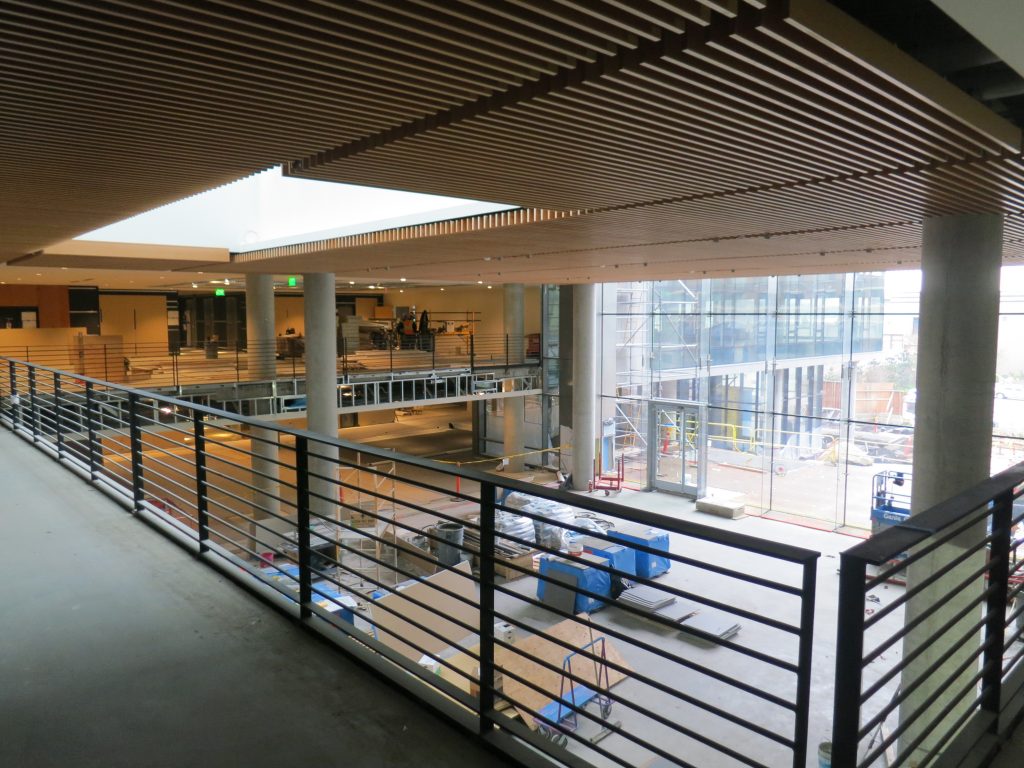 Main Lobby – Wood slat ceiling and railing
Tower 1 – Tower bathroom complete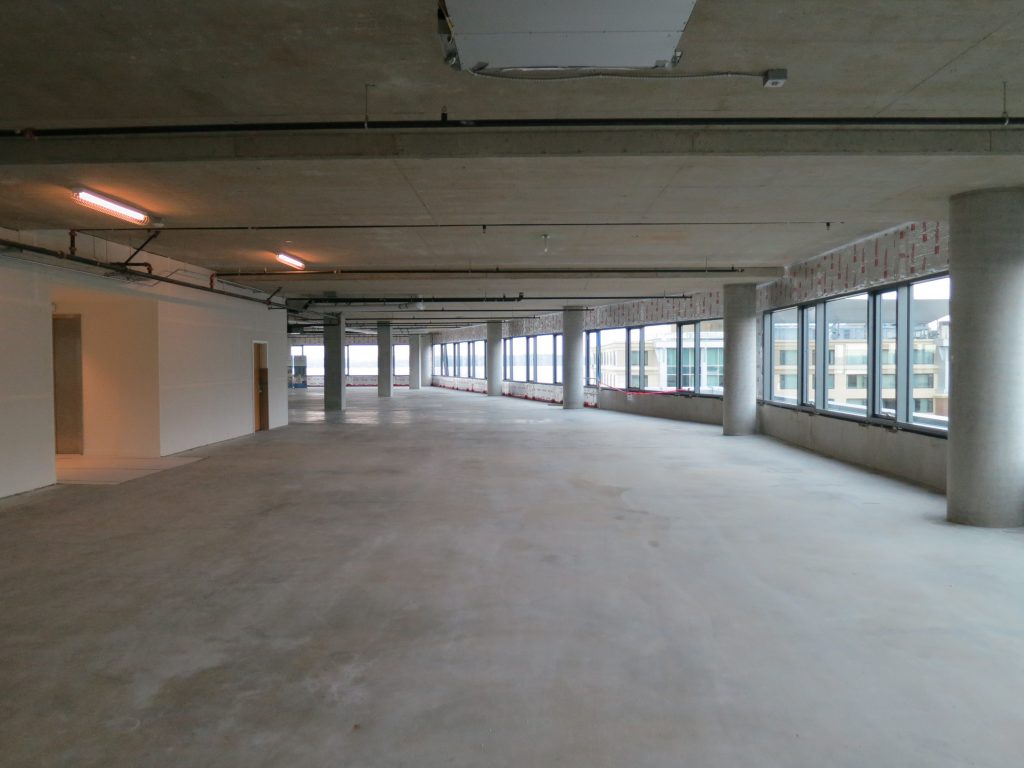 Tower 1 – Tower core and shell complete
At the plaza level, vestibule metal panel work is ongoing, precast stair install is complete, and the property management office is seeing good progress as well. Gyp wall board will be complete by end of December as well as the interior storefront glazing. At the exterior of Tower 1, metal panel and stainless-steel railings continue to be installed at the upper terraces. On level 3, lighting is currently being installed along with the landscaping.
Tower 1 – Metal panel at terraces
Tower 2 construction continues this month with focus on the spaces that support the main lobby, mezzanine, and grand stair. Restroom install is progressing at the tower from levels 3 through 9 with punch list set to begin for these levels in mid-January. Like Tower 1, the public level restrooms continue to focus on tiling at this time with fixtures to follow. Elevator lobbies are complete moving up the tower.
Tower 2 – Level 2 lobby
In addition, the interior man-lift has been disabled and will begin removal by end of the month. Use of a single tower elevator cab will commence for vertical transportation throughout the tower. At the grand stair to the mezzanine, the steel stringers are complete, and the wood treads will be going in by early January. Site work continues for the plaza area between towers 1 and 2 which includes waterproofing, irrigation, lighting, and soil install.
Tower 2 – Grand stair install
Tower 2 – Precast stair install
Plaza area between Towers 1 and 2 – Site work
Tower 3 elevated concrete decks are complete as of December 20th! Miscellaneous curbing and support for the roof mechanical screen will complete the concrete work for the tower by early January. Steel work is progressing with install of interior stairs and supports for exterior stone and curtain wall. Precast panels on the South and East side of Tower 3 are complete. Curtainwall deliveries are ongoing in preparation for this work to begin in early January along with storefront glazing at the lower retail facades. Rough-in for lighting, electrical, plumbing, and fire sprinkler continues for the parking levels under Tower 3 as well this month.
Tower 3 – Decks complete to the roof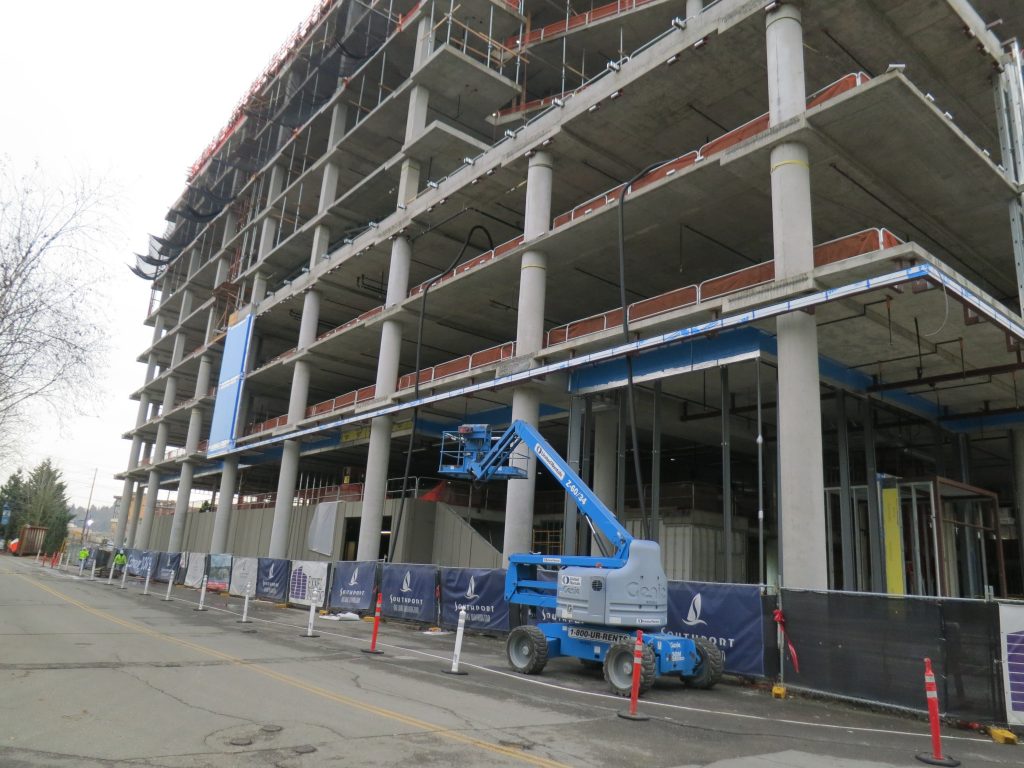 Tower 3 – Precast at east elevation
The Lake Washington Boulevard Widening project which will widen the road to four lanes when complete continues this month. Curbs, paving, and landscape are complete. Pavement markings, signalization, lighting, and signage will round out the project as weather permits.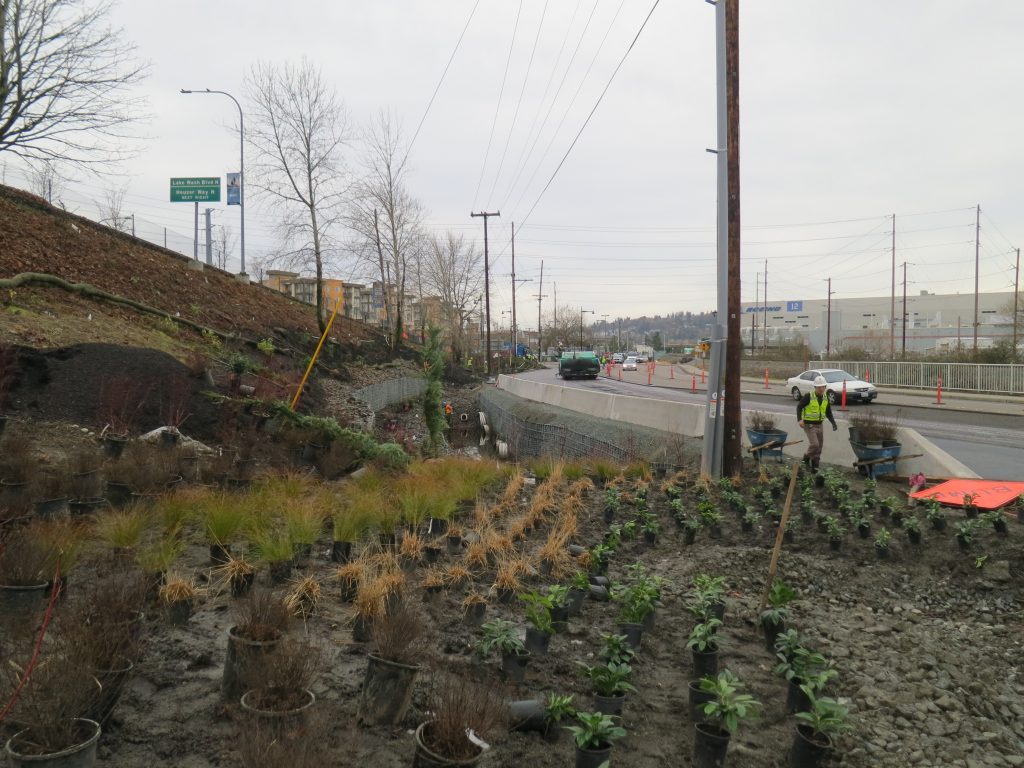 Lake Washington Blvd Widening project – Planting
Lake Washington Blvd Widening project – Barrier install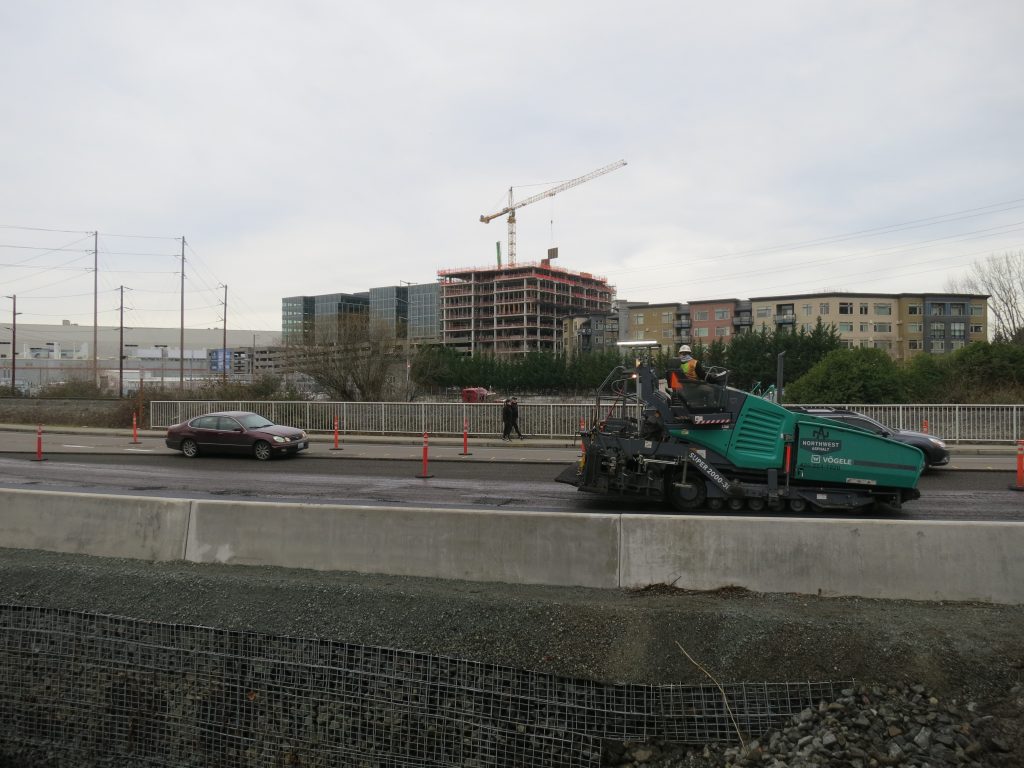 Lake Washington Blvd Widening project – Paving