[I-924/I-526 Approved EB-5 Project] Seattle Southport Office February 2019 Construction Update
Southport Office Construction Site  2/25/2019
Tower 1 construction continues with the main focus on the lobby and restroom finishes at the podium levels. Floor tile and carpeting are complete at the podium with work on the wood wall panels that wrap the elevator vestibules and main lobby continuing. The podium restrooms are complete with counters, partitions, and fixtures with decorative tile work at the entries ongoing. Railings that surround the mezzanine are complete.
Main Lobby
Elevators to Parking
In addition, the polished concrete slab flooring has been installed at both the main lobby and entries at the plaza level. The level 3 exterior courtyard planting is now complemented by the install of wood benches. This area will be a great outdoor spot looking north to the Hotel and Lake Washington.
Tower 1 – Entry at Plaza Level
Tower 1 – Entry Vestibule
Tower 1 – Management Office
Tower 2 construction also continues this month with special attention on the main lobby connection and grand stair between level 1 and the mezzanine. The wood treads have been installed with handrails to follow at the grand stair.
Tower 2 – Stair to Mezzanine
Tower 2 – Mezzanine
At the podium, restrooms are up to the same finish as Tower 1 with counters, partitions, and fixtures complete. Wood wall panels and elevator cab finishes are ongoing. Work at the large conference rooms continue with install of the built-in casework, carpet, and lighting.
Tower 2 – Podium Restroom Entry
Site work is ongoing at the courtyard leading up to the main lobby. Planting, irrigation, and landscape lighting is all being installed concurrently to bring this space together and create the indoor/outdoor experience leading to the main lobby.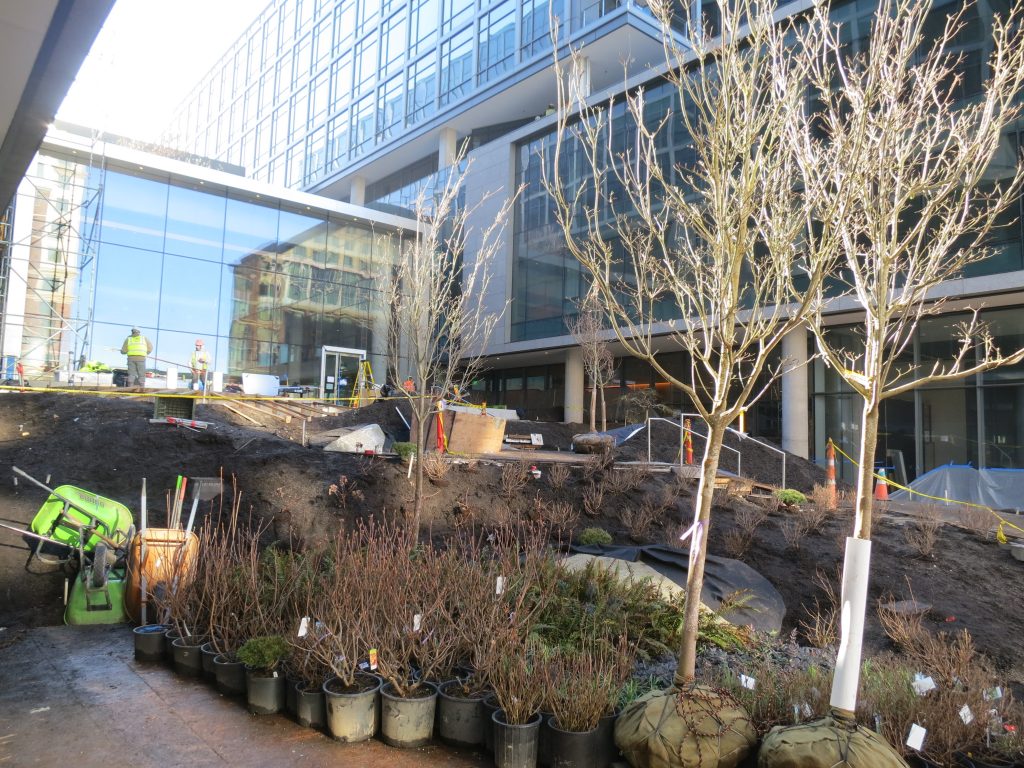 Main Courtyard – Planting Install
Tower 3 concrete decks were completed at the beginning of January and curtain wall install has been ongoing along with MEP rough-in. The curtain wall is installed up to level 5 and is still on schedule to be completed by the end of March.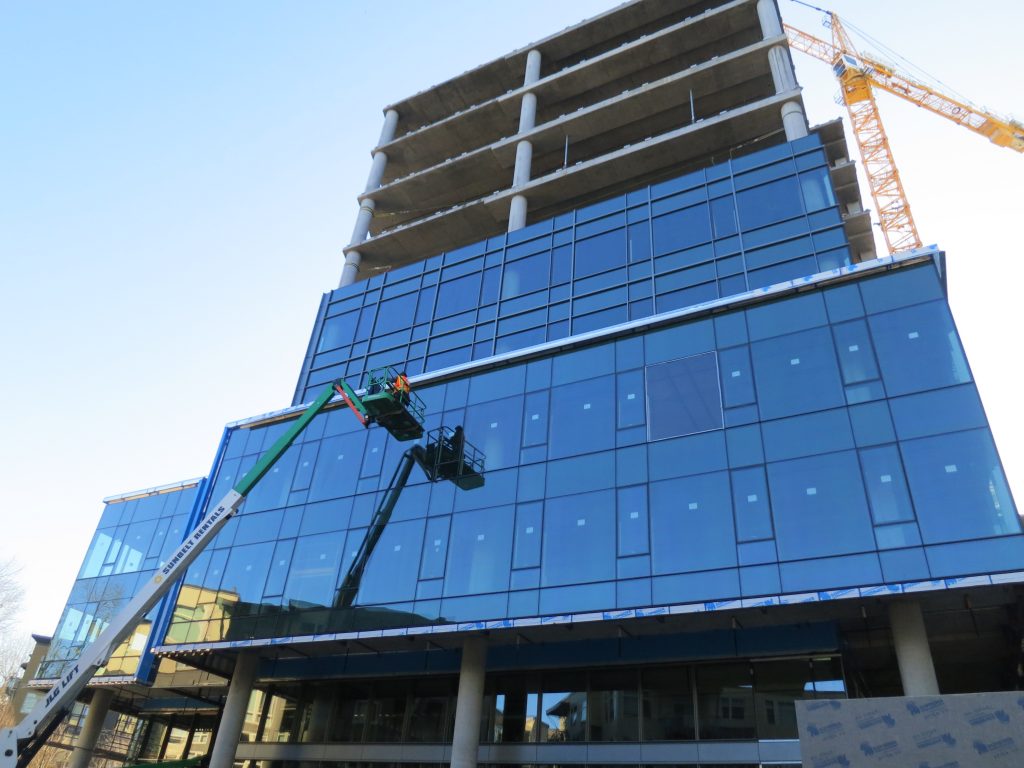 Tower 3 – Curtain Wall Install
In addition, the storefront glazing system at the 2-story retail is nearly complete. Steel work and CMU walls are ongoing for build out of the interior garage partitions and stairs. Precast panels are complete around the garage except behind the pavilion. Pavilion work also continues this month. The structural concrete walls and steel have been set with wood beams next. This will be great conference space looking directly north at the view to Lake Washington when complete.
Garage – Construction
The Lake Washington Boulevard Widening project continues this month. The road is open with dual lefts into Southport. Due to weather, the final improvements consisting of lighting, signage, and railings have been delayed. This is expected to be complete by the end of March.