[I-924/I-526 Approved EB-5 Project] Seattle Southport Office January 2019 Construction Update
Southport Office Construction Site  1/31/2019
Tower 1 construction continues with a focus on lobby and restroom finishes at the podium levels. The public restrooms at the podium have tiling, partitions, and plumbing fixtures ongoing. Floor tile, carpeting, and wood wall panels continue at the main lobby and elevator landings.
Main Lobby
At the plaza level, entry vestibule work is ongoing along with wood wall panels and provisions for future digital wayfinding. Metal panel and railings continue to be installed at the upper level terraces. The level 3 exterior courtyard planting is complete with lighting and built-in benches to follow.
Tower 1 – Plaza Level Entry
Tower 1 – Level 4 Deck and Terraces
Tower 1 – Level 3 Courtyard
Tower 2 construction continues this month with focus on the spaces that support the main lobby, mezzanine, and grand stair. Punch list for the tower levels has begun as restrooms, elevator lobbies, and associated core and shell spaces are complete.  At the podium, the focus continues to be on restroom fit out, wood wall panels, and elevator cab finishes. The interior man-lift has been completely removed and concrete poured back at all floors as one of the standard cabs is currently in use to access upper floors. Wood treads are currently being installed at the grand stair. The glass doors and built-in cabinetry is also currently being installed at each of the conference rooms on levels 1 and 2.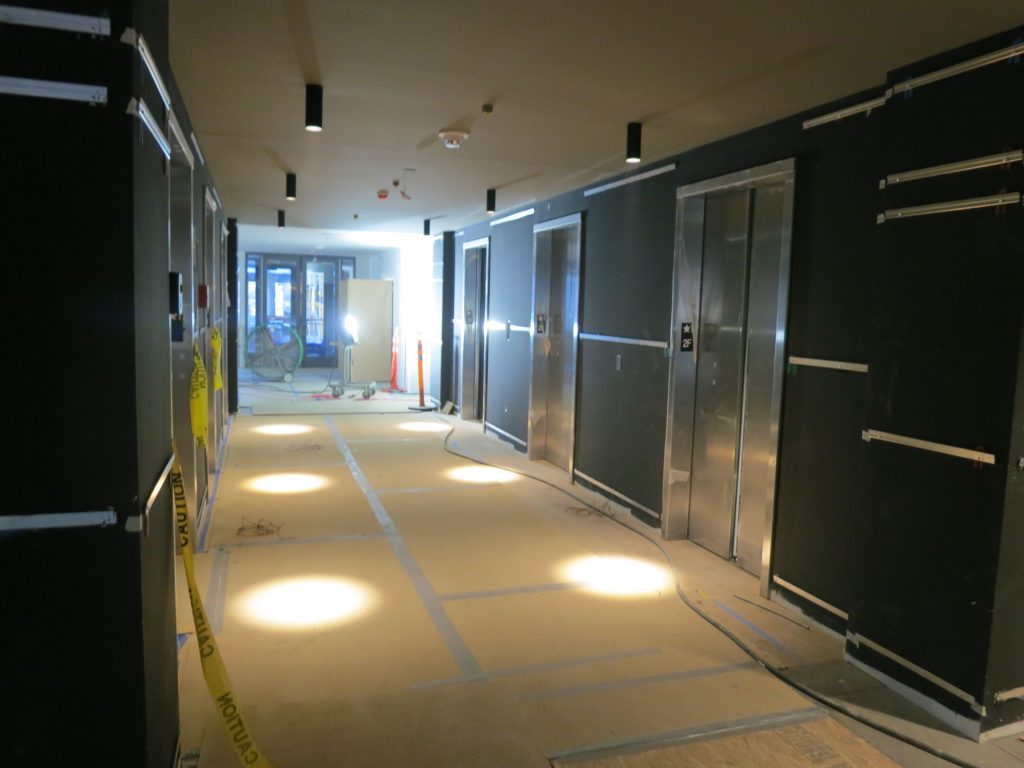 Tower 2 – Elevator Lobby Level 1
Main Lobby – Grand Stair to Level 2
Tower 2 – Vestibule Entry
Site work is progressing rapidly in the courtyard leading to the main lobby with planting to commence by the end of the month.
Main Plaza to Lobby
Tower 3 concrete decks are complete with miscellaneous curbing and walls proceeding to close out the concrete scope for the building. Steel work continues this month with the install of interior stairs and supports for the curtain wall. Curtain wall has begun on the lower levels wrapping the building from south in a counter-clockwise direction. The curtain wall should be complete by mid-March. Storefront glazing is ongoing at the 2-story retail space at the NE corner or the building. Precast panels are complete at the lower garage levels except for the north façade behind the conference pavilion. Rough-in for lighting, electrical, plumbing, and fire sprinkler continue for the parking levels associated with Tower 3.
Tower 3 – Curtain Wall Install
The Lake Washington Boulevard Widening project continues this month. Paving, landscape, paint markings, and light signals are complete. Roadway lighting and barrier railing remain for the project. These are anticipated to be complete by the end of February, however the road should open with dual-left turns into Southport by the end of January.
Lake Washington Blvd Progress