[I-924/I-526 Approved EB-5 Project] Seattle Southport Office November 2018 Construction Update
Permits – Office:
Permit B15005268 – Underground Work and Podium/Garage – Issued
Permit W16000521 – Hydrant Meter – Issued
Permit B16000394 – Underground Work – Issued
Permit B16002140 – Johns Creek Bridge – Issued
Permit U16002823 – Johns Creek Bridge Utilities – Issued
Permit U15005273 – Plumbing – Issued
Permit W17000191 – Irrigation Meter – Issued
Permit E16005077 – Electrical – Issued
Permit F16004945 – Fire Alarm – Issued
Southport Office Construction Site  11/30/2018
Tower 1 construction continues this month with work focusing on the main lobby and fit out of the restrooms. The tower restrooms will be complete with all fixtures installed and ready for review from levels 5 through 9 by early December. The podium restrooms at levels 1 through 3 along with the lower level tower restrooms have tiling complete with partitions and final fixtures being installed currently. In the main lobby and mezzanine, the steel railing is complete, wood slatted ceiling and wood wall panels are currently being installed.
Main Lobby – Wood Ceiling Install
Podium Restrooms – Tile Install
The adjacent lobby areas have the tile drop-ceiling being installed along with trim out of electrical fixtures. At the plaza level, the precast stair treads are going along with the storefront glazing for the management offices at the lower level entry. Painting at Tower 1 is ninety-five percent complete. At the exterior of Tower 1, metal panels and stainless-steel railings continue to be installed at the upper terraces. On level 3, pavers are in along with final waterproofing and soil to accommodate the diverse landscape at this deck.
Tower 1 – Precast Stair Install
Tower 1 – Exterior Balconies
Tower 1 – Tower Elevator Lobbies
Tower 1 and 2 – North Facade
Tower 2 construction continues this month with focus on the spaces adjacent to the main lobby and restrooms going up the tower.  Restroom install is progressing at the tower levels with tiling and fixture install nearly complete with partitions going in next. Podium restrooms continue to focus on tiling at this time. Tiling at the interior elevator cabs is ongoing as the elevator lobby finishes and door fronts are nearly complete. Painting at Tower 2 is also ninety-five percent complete. Metal panel install at the exterior balconies will follow when Tower 1 is complete. At the grand stair to the mezzanine, the steel stringers are nearly complete, and the wood treads will be delivered to the site by the end of the month.  Site work continues for the plaza area between towers 1 and 2 with foam and hardscape sidewalks complete and soil install ongoing.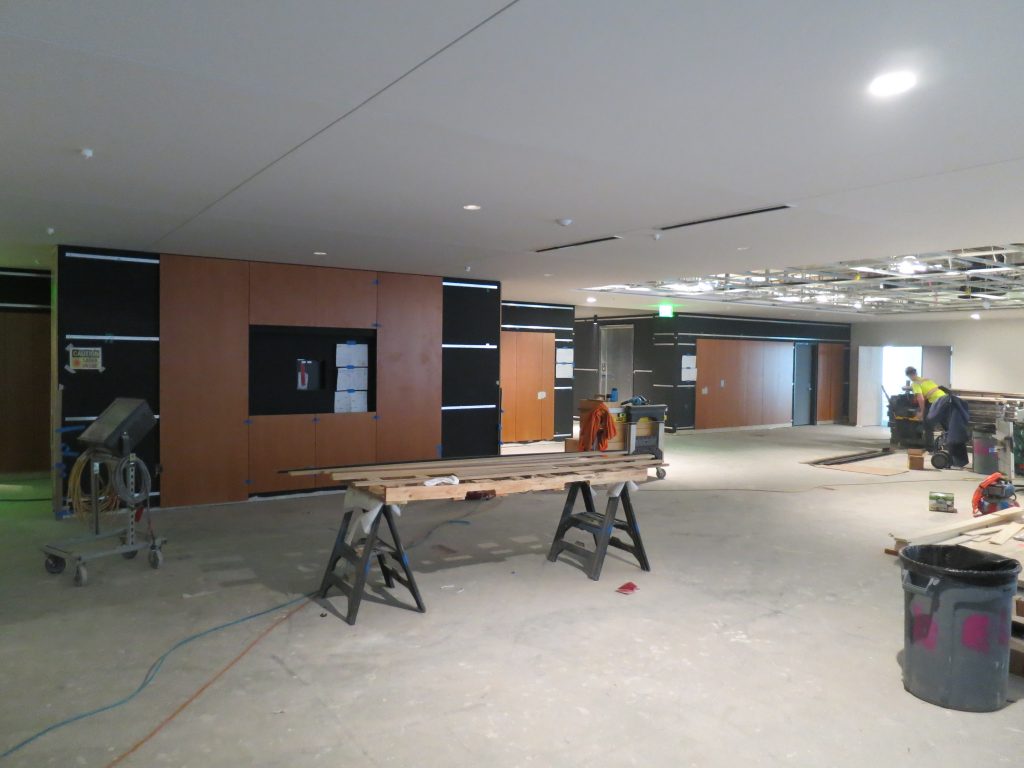 Tower 2 – Wood Panel Install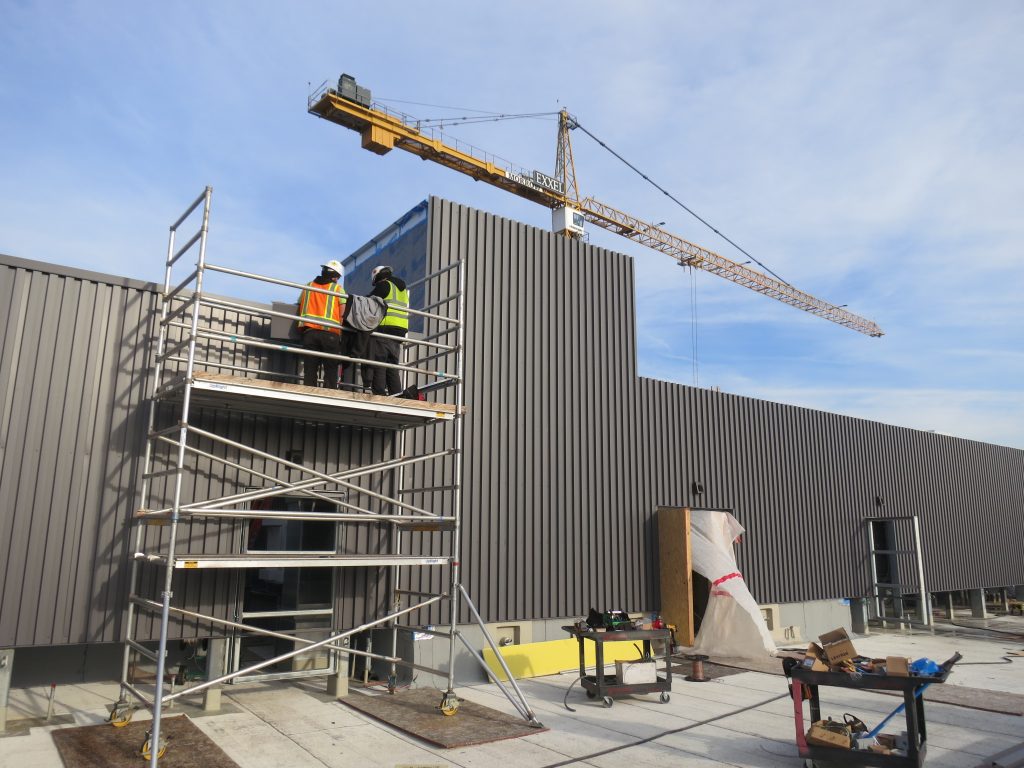 Tower 2 – Roof Metal Panels
Main Plaza to Lobby
Tower 3 elevated concrete decks are currently up to level 9 with the roof to follow in early December. Steel install is progressing at levels 2 through 4 to support the exterior stone façade along with steel stair install. Work is ongoing for the Tower 3 parking garage levels P0 through P6 with regards to rough-in for lighting, storm drain piping, fire sprinkler, and masonry. Precast panels on the South and East side of Tower 3 are currently being finished. Curtainwall deliveries are ongoing in preparation for this work to begin in January.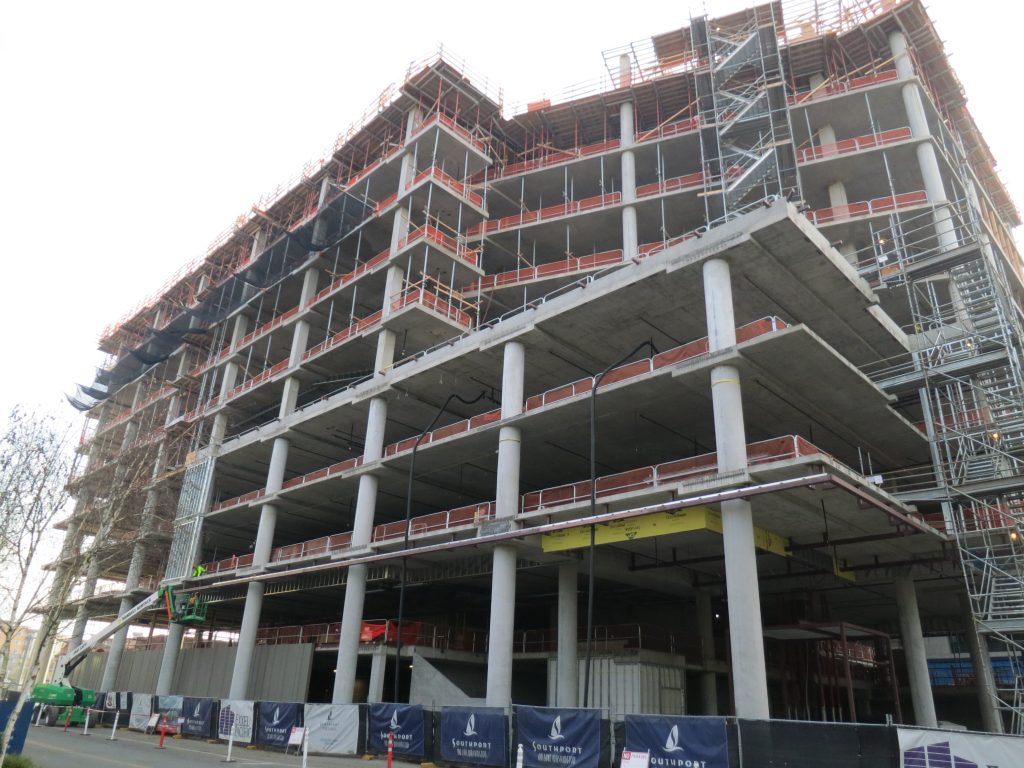 Tower 3 – Concrete Deck Construction
Tower 3 – Conc Deck Preparation
The Lake Washington Boulevard Widening project which will widen the road to four lanes when complete continue this month.  Stream bed work, underground utilities, and base course for the road are complete.  Curb, gutter, paving, and street lighting will be up next with project completion still tracking for the end of 2018.
Lake Washington Blvd Progress